So lets address the elephant in the room: Chinese opera.  It's essential to my survey of Chinese drama (and really, any broad examination of the Sinophone culture) but a lot of people outside of China really dislike Chinese Opera.
Why?  The reasons I've heard for this rejection of Chinese Opera are endless
– the music sounds like whining/screeching/moaning
– the stock characters and traditional plots fail to entertain
– there is no sense of realism.
Well, fair enough!  I'll admit that Chinese Opera is an acquired taste; one that I only became comfortable with after exposing myself to an excess of information and performances.  However, it is important to realize that when Westerners react so strongly to this genre of performance, we  (for at times I can include myself in this category) are responding to a media that emphasizes qualities just as skillfully produced but diametrically opposed to Anglo-American conceptions of drama.  Chinese opera values the essence of truth, beauty, and spectacle.
That being said, how can you enjoy a Chinese opera after watching drama from the world of Stanislavski realism for your whole life?  Masterpiece theatre, Law & Order, the Royal Shakespeare Company, and  even Sci Fi films like the Matrix aim to show actors responding to each other in the most believable way possible.  Chinese Opera wants to illuminate the most beautiful method of interacting.  Here lies the conflict.
As is almost always true in cultural studies: more information -> more understanding -> more appreciation.
So let me share my own personal transformation from shrinking audience member to fervent opera devotee.  I realize that a lot of my comments are pretty surface-level and may make broad generalizations…. not really what I'd like them to be.  However, this was my truthful path to appreciation and if it led me to a point where I can happily dive into a Chinese Opera, I hope it can open doors to deeper knowledge to others.
So what is Chinese Opera?
Chinese Opera is an umbrella term for a number of performance styles from a variety of regions in China.  The term "Peking/ Beijing Opera"  refers to jingju (or capital opera), one variety that became a favorite of the court In Beijing.  If you've seen any Chinese opera in the past (maybe in Chen Du Xiu's Farewell my Concubine?), you probably saw jingju.
All of these performance styles share  a few similar traits. Opera actors aim to showcase four skills: song, speech, dance-acting, and combat. These talents optimally unify to fulfill to an overall aesthetic aim conveying the essence of life rather than the reality of living.
The Cool Stuff
On a simple level of pure enjoyment, Chinese Opera is a pretty amazing spectacle.  When I first started watching operas, I wasn't a big fan of the music.  Putting it lightly, I had no plans to include jingju tracks on my ipod  However, I was a huge aficionado of what I saw.
I saw my first live opera during my first research trip to Beijing in the summer of 2008.  My friend Kaitlyn and I booked tickets to a touristy theatre complete with English subtitles and expensive souvenirs.  The performance was a sampler of adventure and romance, offering just enough to impress but not too much to wear out.  Actresses juggled batons with their feet, acrobats flipped off tables, and the orchestra I had once considered abrasive didn't sound as grating when performers where acting out crescendos of physical strength.
First of all, you have the incredible costumes complete with wigs, jewelry, feathers, opulent costumes, and masks.  Without going into the significance of the colors and patterns (which is a worthy and fascinating scholarly topic, but not necessarily of the utmost importance when it comes to sitting down and having a good time at an opera), the visual elements of most Chinese Operas are  entrancing.
According to tradition, an opera's backdrop and scenery are sparse and actors are responsible for conveying the setting:  is it dark?  is it cold?  are we in mountains or in a boat?  However, in an effort to draw more audiences, modern operas have often extended the spectacle to some intricate scenic designs.
Take a look at the design for one of the many sets for the production of chi bi ( Red Cliff) I was lucky enough to see in Beijing this summer.
If you're not a fashionista or easily impressed by scenic design, you can always find yourself enjoying the acrobatics of Chinese Opera.  Just like the battle scenes in any summer blockbuster, the displays of force in this performance genre are literally breath-taking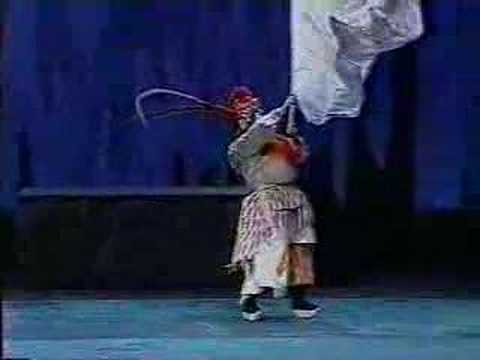 Also, may I just say that I love the fact that women can be warriors in Chinese operas.  Its so fun to see female characters (often goddesses battling for their mortal loves) use a distinctive fighting style to take on hoards of enemies.
Taking the Next Step: Pop goes the Opera
Okay, so with some persuasion, I was entranced by operas as long as the volume was turned low.  But, that's hardly an appropriate amount of appreciation.
After I returned from my first trip to China, I continued to nourish my not-so-secret addiction to Mandarin Pop music.  One of my favorite Mandarin radio stations introduced me to Wang Lee Hom, a Taiwanese American who broke onto the Asian pop scene with musical experimentations like the fusion of jingju (Beijing Opera) with rap.
In this rap (Heroes of the Earth), Wang seems to be attending a sort of Opera rave.  All I can say is that I was immediately hooked.  Suddenly, in this new context, I understood what qualities differentiated traditional Chinese music from the genres I enjoyed…. and I kind of liked their…. edginess.
Take a listen!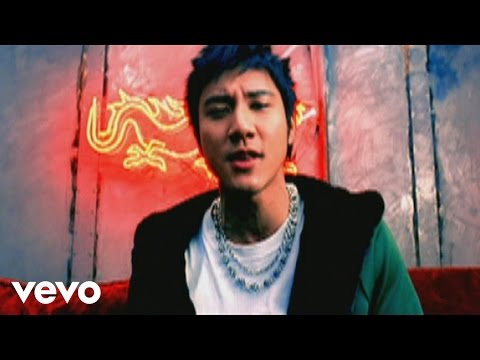 Time to get Technical:
In the Summer of 2009, I travelled to Beijing to attend classes at Peking University.  I purposefully selected a Chinese music class in the hope that I could finally understand Chinese opera.
I was so fortunate to have been graced with the presence of Professor Brian Bi, whose diva reputation and standing ovations before and after all breaks were well warranted.  Myself and my friend Matt were the only obvious exchange students in the class (meaning the only students not of Chinese descent) and we were instantly made models for everyone else.  We practiced folk logging songs for the class, stumbled through archaic lyrics, and practiced imitating the nasally dialects appropriate for each song.
We were also lucky enough to be visited by master artists who specialized in some of my new favorite instruments:
The erhu (perhaps closest to a fiddle?)
Because it's a little hard to see, I'll explain what this instrument is.  It's a two stringed instrument with a bow in between the two strings.  I absolutely love its tonality and incredible range.
The pipa (Lets call it a sort of Chinese guitar)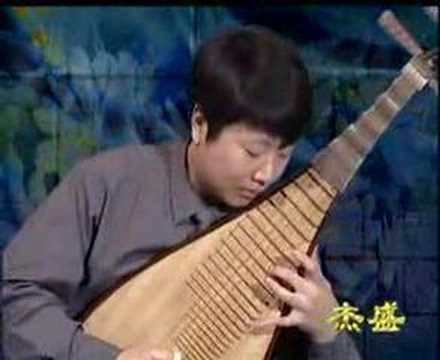 Finally, the singing itself.  After trying my hand at some Chinese Opera (yes, I can sing it.  No, probably not on command… I'm no expert), I realized how much skill and control it requires.
Before listening (the singing takes place around :25), you may enjoy it more if you consider
1) the power and control in her voice
2)  the purity of emotion.  It looks and feels like melodrama for a reason.  Chinese Opera find the essence of an experience and expresses it in the most precise and beautiful way possible.  No translation is necessary for this scene to make sense.  You feel the emotions pulsating out of every stinging note and I for one, can't help but enjoy it.
3)  the accompanying sounds of the amazing instruments above
White Snake Girl tells it like it is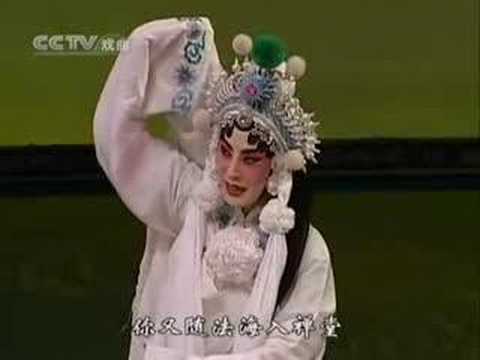 Understanding the intricacies of Chinese Opera led me to adore it.  I saw two full length operas during the last week of classes and soaked in every minute.  Unlike my previous experiences in tourist traps, I was happy to be squeezed into a packed house of Chinese Opera devotees who were a little stunned by my presence.  They kindly offered to explain Opera to me and I had the delightful opportunity to inform them that I did not need assistance.
My most recent Opera experience was the most hopeful.  A Taiwanese BangZi Opera troupe attended the British Shakespeare Association conference this Fall to perform scenes from their adaptation of Merchant of Venice "Bond" for the group of Shakespearian scholars.
Now, sometimes I feel like academics are stuck in a rut.  I'm sure many attendees had written critical editions of Merchant and published articles about Shylock's monologues.  How would they feel about a cross- cast Taiwanese opera diva singing these famous words instead?  I had no time to figure it out the night of the performance since I had to rush home, but the talk back session the next day promised answers.
The little auditorium at King's College was packed but I was happy to grab a seat near the front where I could hear the delegates for the company chat to each other in Mandarin when they turned away from their microphones.  To my delight, the response to the adaptation was overwhelmingly positive.  People asked questions about opera, about the translation, and about the availability of a video.
The most magical moment came when someone asked the woman who played Shylock how this role differed from her roles as young women.  She quietly stood, arranged herself behind the table, and began to sing two arias; one as a young lady and one as the bitter Shylock.
The melodies Chinese Opera echoed in the little hall and people sat in stunned disbelief.  It was so beautiful.  Gone were my thoughts of screeching and wailing.  Here was power and emotion personified and articulated beautifully.
I was not alone in my evaluation.  The venue echoed with applause and speakers referred to that breath-taking moment for the rest of the conference.
Everyone can learn to love Chinese Opera.  Best of all, Chinese Opera can teach everyone a little bit about the genres we already love.  What is our conception of music and how much of it is determined by culture?  What goals should theatre strive for?  How do audiences absorb emotion?
And to correct my previous statement…. I am happy to announce that my ipod now has a healthy smattering of Chinese Opera.